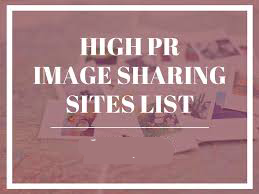 What is image submission?
Image submission in SEO involves submitting images related to your website in different image sharing or submission sites. It includes the process of choosing the right image, alt text, file format, and description. You can make image submissions either by posting images on your website or submitting images to various image sharing sites. Sites including Facebook, Pinterest, Google+, Tumblr, Twitter, Flickr, and Instagram are some most popular image sharing sites with huge traffic. These are free. You can promote your website with the use of image sharing sites. By posting an informatic image you will get traffic to your website.
Image sharing is an easy way with less effort to promote your website.
To attract users, images always play an important role in the SEO perspective. People find images more interesting than reading boring texts since the images are the best way to express what they want to show more clearly. Many times images interact with people more than text, and also reach more people in less time. Make images related to services and post in different image submission sites. It can be helpful in getting traffic as well as backlinks for your website. The image submission Sites is an important part of SEO and is the best way to obtain good traffic to your website when sending images related to your website in different image submission websites. The most important factor here is to choose the correct image of the correct file format for the description of the point image. You can share JPEG, PNG and GIF images. If you send your images to the most traffic websites, there are many chances of getting more traffic to your website.
Here is the image sharing sites list:-
hope the sites mentioned above will surely help you in building backlinks as these sites have great traffic. If you share user-friendly images with full pieces of information that help users to find what they are looking for, then chances of getting traffic to your website raise.
What is the use of image sharing sites for SEO?
Image sharing sites are more helpful for boosting the traffic and as well as the backlinks.
Image sharing sites are useful for building links to your site.
Images sharing assists in getting better ranking in search engines, as it is the best medium for sharing pieces of information individuals.
Infographics are one of the best examples of it. It is a famous method to get backlinks and traffic.
Increase domain authority or page rank of your site.
Help in creating your brand image.
Some High pr image sharing sites list as follows:-
We hope this list will help you to boost your organic traffic.