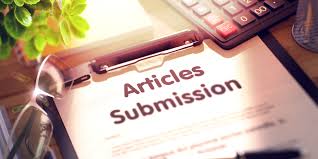 Among all the SEO techniques, article submission is one of the best and most important off-page activity. Article submission defines as the writing of articles that are related to your online business and then post to the popular article submission directories.
The main purpose behind article submission is to getting connected a large number of visitors to your website without incurring a great cost. It is important to make sure that the articles you submit are directly related to your website. Article Submission refers or comes in off-page SEO technique in which you write an article and post it on the third-party website.
It is a method by which you write articles that are related to your business and post them to the famous article submission directories. By this, you can generate Do-Follow backlinks.
What is No Follow or Do Follow links?
 Do follow links are those links that are considered by Google, in other words, those links where you will be getting benefits.
And, No follow are those links which do not consider by Google.
The main purpose of article submission is to attract a huge number of visitors to your website with minimum time and low-cost efforts. One of the parameters used by search engines for rating your websites is the number of backlinks. The more backlinks your website gets, the higher it will rank, and article submission is one of the most popular tools that currently used.
Article submissions are sites on which you can submit your content for being published on the internet. where you can add links to your website or your blog. As you see, the articles written on these submission sites are the best tools to build backlinks and provide a better presentation for your website, but there are a few rules you must have in mind when writing your content to be able to leverage the full potential of article submission websites to your advantage
The backlinks come with the help of articles are quality links that will make your website rank higher on search engine lists.
The people who come to your website after having read your articles are already involved in your product or service.
Some free article submission sites in India :-
There are many article submission sites list on which we get strong backlink some popular sites of article submission are :
Benefits of article submission sites:
With the help of article submission sites, we get strong backlinks for your website.
we can get a direct connection for your website from focused keywords.
It helps in improving your business presence on the search engine.
With the help of article submission, we get traffic to our website page.
Increase the website ranking on  search engine.
Therefore in this particular stage of marketing era, most of the SEO experts prefer article submission. It is the best way to connect our client and make them educated and to help in the business promotion too by sharing details about one's business.